GGH region forecast to lead growth in new home sales
1/10/2019 | SHARE
Posted in Ontario Real Estate by Vanguard Realty| Back to Main Blog Page
Sales of new homes should be positive in 2019 despite the challenges of affordability and interest rates.
A report from the Altus Group points to elevated immigration levels as a key driver of sales, along with demand from first-time homebuyers and tight rental markets.
Among the downsides to the market, higher construction costs and economic growth issues may dampen sales in some markets.
The Greater Golden Horseshoe including the GTA is expected to show significant growth, given the slump in 2018 and signs of improvement for the market in the second half of last year.
The economy in Calgary and Edmonton is expected to weaken new home sales but the report does not expect a decline based on current activity levels.
However, Montreal and Vancouver are forecast to see a downturn in new home sales.
For Montreal, that is due to the exceptional performance in 2018 which is set to be fall back to more normal levels.
For Vancouver, Altus says the decline in sales due to higher costs for both developers and borrowers. The easing of sales is still predicted to remain at or close to the 10-year average for the market.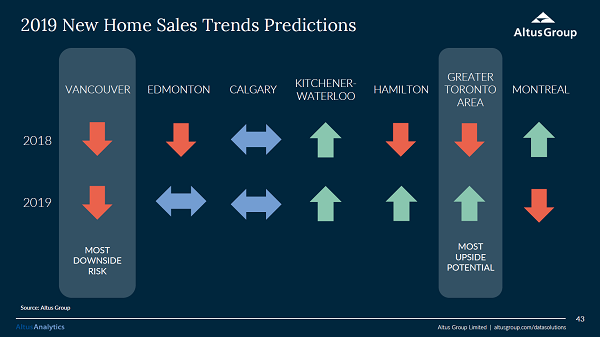 Greater Golden Horseshoe, GTA Home Sales, GTA News, GTA Real Estate Market, New Developments, New Homes, Ontario Real Estate News, Real Estate Trends